Laser Direct Structuring (LDS) materials & processing
//


Laser Direct Structuring (LDS) is a process where an antenna design can be directly transferred onto the 3D surface of an injection-molded structure through the operation of a laser beam, therefore making prototyping and production processes much more efficient. The LDS process enables the flexibility and freedom in 3D design for prototyping which provides quick turn-around and verification during various project phases. It even provides the ability to fine-tune the antenna design during production to comply with stringent requirements of antenna performance. The LDS process is quick and easy to turn antenna design into mass-production product with lower cost of customer-specific tooling and NRE expenses.
There five steps in the Laser Direct Structuring process are as follows:
• Injection molding of thermoplastic materials to form a three dimensional structure.
• Laser activation: Since it is very difficult to adhere metal on a plastic surface, special treatment is needed to make the metallization process easier on the plastic surface. By blending a special chemical additive in the thermoplastic materials for injection molding, laser activation can be used to initiate a chemical reaction to form very fine metal particles on the laser-treated surface of the injection-molded parts. In addition to the forming of metal nuclei, a rough surface can also be formed on the laser treated portion of the injection molded parts. Therefore, copper or other metal traces can be deposited onto the treated plastic surface during the metallization process and good adhesion between the deposited metal layer and the thermoplastic materials can be established.
• Metallization (Electroless plating): Metallization is the process to establish metal traces on the surface of the injection-molded plastic parts. Electroless plating can be used to deposit the copper (or other metal) layer on the laser treated region and the desired antenna patterns are formed. Subsequently, electroplating is frequently used to add-up the thickness of the metal layer and to achieve better electrical performance of the antenna built on the surface of the injection-molded parts.
• Surface finishing: The surface with an LDS antenna built on it will be exposed as the outer surface of a device, such as a mobile phone. An outer spray coating or some other surface finishing processes is normally used to establish the required appearance to meet an acceptable outer surface aesthetic.
• Functional test: Evaluation and verification of the electrical properties of the LDS antennas.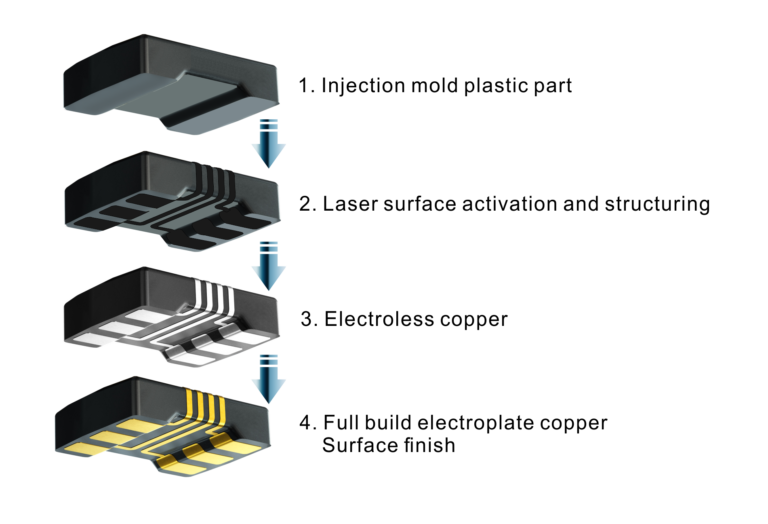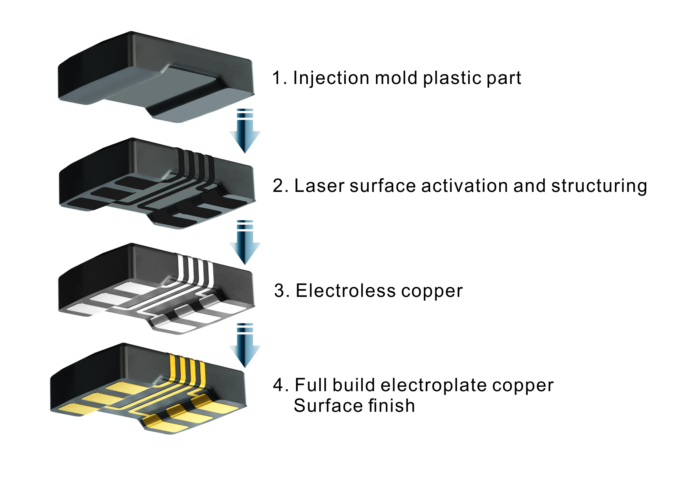 LDS process has two major advantages over other technologies:
• Compared with flexible printed circuit board (FPC) antennas and metal sheet stamping antennas, LDS processes can fully utilize the 3D structure of a molded plastic body to build the traces needed for a high performance antenna. Furthermore, since it uses a laser beam to define the antenna pattern, just by modifying the laser patterning program, the antenna traces can be changed without altering the molding die. Therefore, it is very useful for the production of antennas with various frequencies in the same injection-molded parts.
• With fewer production steps, LDS technology is very efficient in the reduction of production cycle time. Furthermore, the laser system is quite stable and durable with a low failure rate which makes 24 hour continuous production feasible and is quite suitable for mass production.
In addition to the above mentioned advantages, there are still other benefits for using LDS technology, such as:
•Lower initial costs with minimal tooling expenses, i.e., low NRE charges.
• Short design & development turn-around-time.
• Relatively easy to modify or fine tune the antenna pattern during the development stage.
• Customized design can be easily achieved and antenna performance can be tailored to meet customer's needs.
• Laser drilling is available for the establishment of via connection between different layers.
• LDS antennas are compatible with SMT processes.
LDS process has been widely used on a large variety of antenna applications, such as:
• Mobile Phone, Portable and Wearable Devices
• Notebook/Tablet Computers
• Wireless Switches/Routers
• True Wireless Stereo (TWS) Earphones
• Medical Devices
• Gaming Consoles
• Automotive Navigation & Tracking Systems
• Drone or Unmanned Aerial Vehicles (UAVs)
• Satellites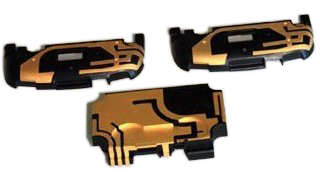 Why Unictron?
Unictron's Laser Direct Structuring (LDS) Technology offers flexible and quick turn-around services of geometric 3D design in prototyping and mass-production of antenna products compared to the regular FPC-based antenna technologies. Our antenna engineering team has extensive knowledge and experience in the field of antenna design and LDS materials and processing. We are here to provide you a space-saving approach of building antennas for your devices by integrating mechanical structure and high performance antennas onto an injection-molded 3D component. We offer customized OEM/ODM antenna solutions with competitive prices. It is most suitable for the ever-demanding wireless industry which sees the developing trend of increased complexity, miniaturization of antennas, and the need to integrate multiple frequencies into one antenna element.
---