Castle patch antennas for high precision positioning applications
//
Keywords: GNSS, Navigation, Positioning, Tracking, Patch Antenna, Castle, RTK, Real Time Kinematic, Multiple Frequency, GPS, monolithic, stack, low profile
Featuring Unictron's Castle Patch Antenna: A high performance patch antenna solution for high precision positioning applications utilizing multi-band (L1, L2, L5, L6/E6) GNSS satellite signals. With a monolithic design, the Castle patch antenna provides a more compact and affordable solution compared to traditional stacked patch antenna.
Unictron presents a groundbreaking antenna design which enables multi-band GNSS navigation applications in a simple, lower profile design: The Castle Patch Antenna, a monolithic ceramic antenna optimized for multiple bands GNSS signal reception. Depending on the dimensions and ceramic materials used, the castle patch antennas can be used for dual band L1+L2 or L1+L5, triple band L1+L2+L5 or L1+L2+L6/E6, or even full band L1+L2+L5+L6/E6 applications. It is especially suitable for high precision positioning applications utilizing Real Time Kinematic (RTK) technology.
In recent years, standard GPS navigation technology has enabled locational accuracy larger than 2.5 meters or even in the 5-10 meters range through only the L1 band service. For general purpose tracking and navigation devices utilizing GPS, GLONASS, Galileo, BeiDou, or QZSS constellations all operate in the primary L1 band. With the advent of technological advancement, improved locational accuracy can be achieved by using additional signals with various frequencies from the same satellite system. These additional signals working at lower frequencies are normally called L2, L5 bands in GPS system, or G1, G2, and G3 in GLONASS system, or B1, E5, and E6 in Beidou system, and E1, E5, E6 in Galileo system. Of course, there are still other signals from other satellite systems, for example, L1, L2, L5 and L6 frequency bands of the Quasi-Zenith Satellite System (QZSS). Modern GNSS receivers use the additional band to offer better precision positioning of up to two orders of magnitude, from a few meters to a few centimeters, and protect against narrowband interference improving performance in multi-path environments.

Antenna solution
Ceramic patch antennas normally have the best reception quality of signal from the navigation satellites. However, since ceramic patch antennas tend to have rather narrow bandwidths, antenna designers frequently use two patch antennas, stacked on top of another, to achieve the desired multiple-band signal reception capability.
Unictron has designed a unique monolithic patch antenna that can accommodate multiple frequencies, by introducing hollow portions in the ceramic body simulating a virtual secondary body. Unictron named this unique antenna the "Castle patch" as its shape resembles the outline of medieval castle architecture.
Since Unictron's castle patch antenna is designed to be compact, in one single body, the obvious advantage is a thinner profile compared to other stacked patch antennas currently offered on the market. The stacking procedure is also no longer needed which can simplify the production process and achieve better performance stability and consistency. For the regular 20x20mm or 25x25mm castle patches, good signal reception of L1+L2 or L1+L5 can be achieved. The larger dimensions can also bring benefits of wider bandwidths and better signal reception performance. For 40x40mm and 50x50mm models, good signal reception quality of L1+L2+L5 bands or even full bands of L1+L2+L5+L6/E6 can be achieved with dual-pin design.

Currently available Castle antennas: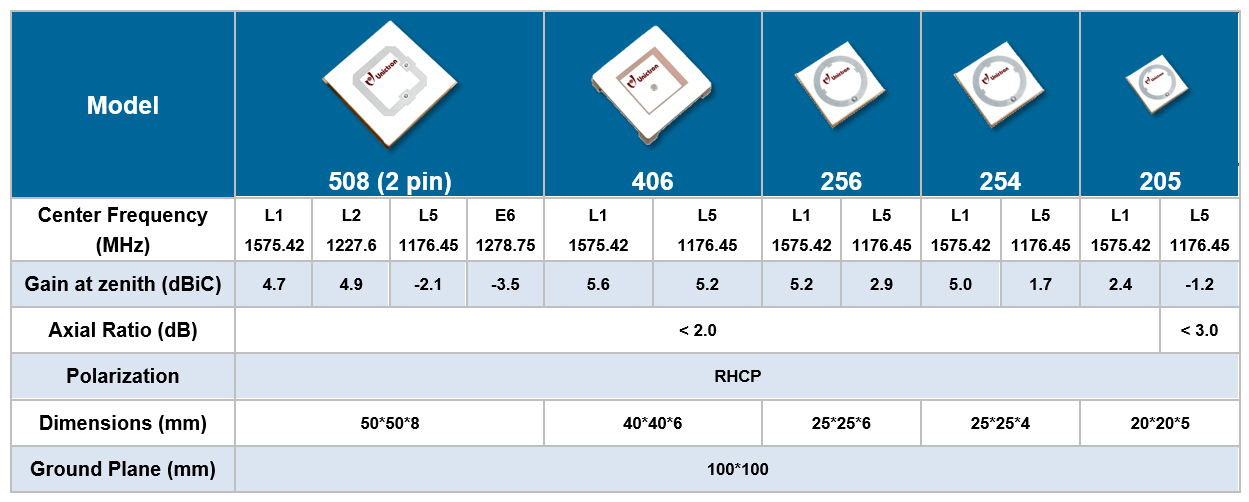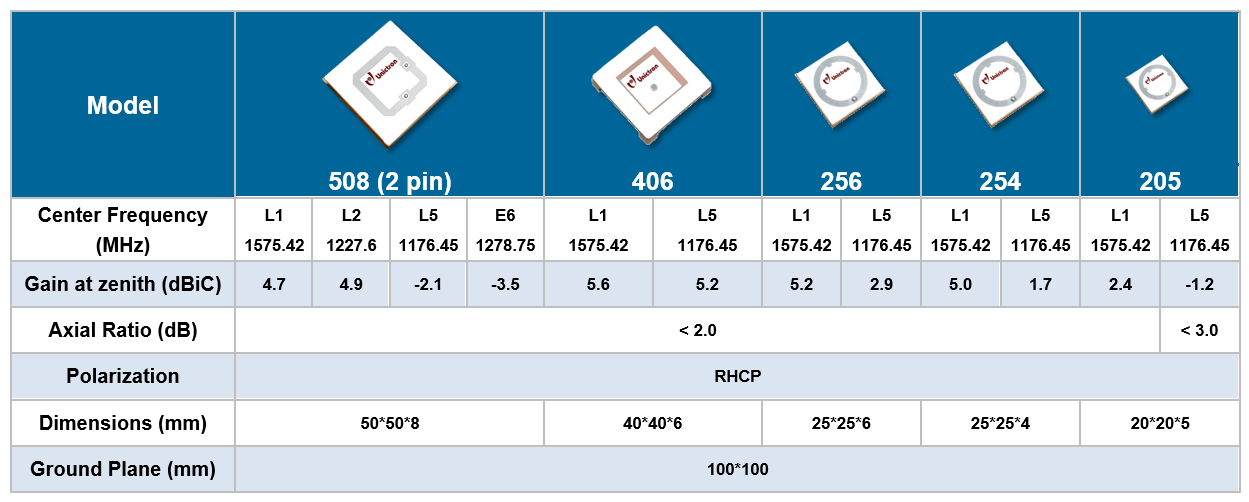 As with all ceramic patch antennas, Unictron's Castle patch antenna requires tuning based on the ground plane shape and dimensions to achieve optimal performance. Unictron's engineering team can help to optimize the antenna installation based on 2D or 3D drawings of the end devices as well as providing antenna tuning and performance measurement in our 3D anechoic chamber testing facilities.
---